| | |
| --- | --- |
| | Paso Fino Horseback Riding |
---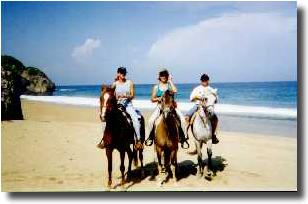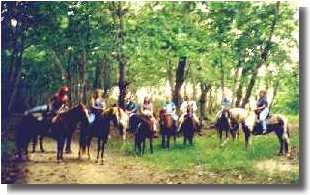 Explore the Puerto Rican countryside with Paso Fino Horseback Riding vacation packages. Well trained and healthy Paso Fino horses are available to accommodate both the advanced and novice rider. Take Morning and Evening trail rides along beautiful and pristine Jobos and Shacks Beaches in Northwest Puerto Rico; along beautiful Sandy Beach and hillsides of Rincon in Western Puerto Rico, or Guanica's Dry Forest in Southwestern Puerto Rico. Visit the cavernous cliffs and tropical forests on horseback.
Enjoy Puerto Rico on horseback!
The Paso Fino breed found its way to the New World from Spain as the preferred mount of the Conquistadors. The first ranches were set up by the Spaniards on the Islands of the Caribbean (primarily Puerto Rico and Cuba), and eventually in Latin America, Mexico and the Southern United States.
This early Spanish stock also contributed to many of the modern day American breeds, including the Mustangs, the Quarter Horses, and the Appaloosas just to name a few. As the United States population grew over the years, the blood was soon diluted; except for extreme cases of isolation or careful attention to breeding practices.
The Paso Fino is a prize possession of Puerto Rico, and is the National Horse. Columbia, Venezuela, Cuba, The Dominican Republic, and other latin countries have also bred the Paso Fino in semi isolation. It wasn't until World War II that the Paso Fino was rediscovered by the American soldiers stationed in those countries. Soon they were being imported by an adventurous select few. It was not long before the advantages of the breed became apparent.
Today The Paso Fino's are used in all equine disciplines and are unequaled when it comes to the luxurious ride that they produce. For no other equine is called 'Los Caballos de Paso Fino', The Horses with the Fine Walk.
DISPOSITION: Gentle at hand but spirited under saddle.
GAIT: The Paso Fino gait is essentially a broken pace, a lateral, not diagonal gait. This serves to eliminate the jarring effect of a true pace and causes the rider practically no up and down movement. The motion of the horse is absorbed in the back and loins giving the rider comfort. This gait is performed at three speeds with the collection of the carriage decreasing as the speed increases.
What is a Paso Fino? Paso means Step and Fino means Fine. The proof is in the ride. Once you ride the smooth naturally gaited Paso Fino you will never want to post again.