---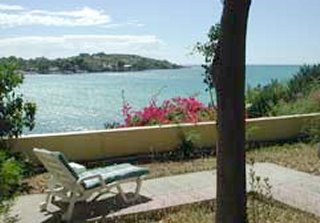 This unique 4 bedroom, 2 1/2 bath, beachfront rental is located in the southwest area of Puerto Rico near UNESCO preserved Dry Forest and Copa Marina Beach and Health Spa Resort. The house is a very short walk from Playa Santa a clear water swimming beach.

Within the fishing village boundaries (Barrio Salinas de Ensenada) where the house is located, there is a mangrove beach that is protected by the natural resources department, a sanctuary where you can swim amongst the mangroves. The naturally preserved dry forest is a beauty of cacti and desert like conditions where migrating birds nestle.
---
This 4 bedroom, 2 1/2 bath, vacation home offers amenities such as: full kitchen, bed and bath linens, ceiling fans, A/C in 3 bedrooms (ceiling fan in 4th), tv/DVD, water heater, water cistern, microwave, gas BBQ grill, stereo, patio/terrace with oceanview, off street parking for 2 or more cars, and more.

Rates: Villa: 4 Bedrooms, 2 1/2 bath - $200/day, $1,250/Wk, $3000/month (longer stays = lower rate).
Apartment: 1 Room (2 full beds, 1 futon bed) 1 bath - $125/day, $750/Wk, $1750/month.
Amenities Provided

Fully Equipped Kitchen
Microwave oven
TV/DVD
Stereo
A/C in 3 Bedrooms (Ceiling fan in 4th)
Gas Barbecue
Coffee Maker
Basketball Hoop
Electric Water Heater
400 Gal. Water Cistern
---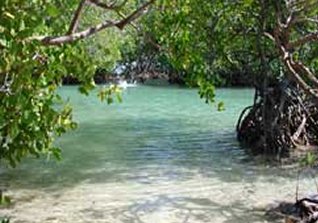 Playa Santa Beach is known for it's white sand and crystal clear calm water. Just think of a giant bath tub with the right water temperature! The community where Playa Santa lies is called Salinas (saline), there is a nearby salt flat that used to be mined many years ago.

Guanica boasts a family-friendly atmosphere where the focus is on quality of life. This a magnificent section of Puerto Rico, boasting miles of natural mangroves in the Caribbean Sea to swim in and explore.

Playa Santa area is also part of the Guanica Dry Forest, The Guanica Dry Forest is a unique nature preserve offering a unique view of the many birds that live and transit through Puerto Rico's dry region.
Click 'Here' to reserve this vacation rental home,
or call (888)779-3788, or drop us a note at e-mail address: Property Resources West
---
Press here to View our Home Page and Inspect more Rental Properties

Copyright © 2003, Property Resources West, Vacation Property Services - 1(888)PRWESTV